Electronic Projects
Sidblaster-USB TicTac Rev. 1.2 released
The Sidblaster-USB TicTac Rev. 1.2 is available.
All Files at GitHub uploaded.
SIDBlaster-USB TicTac Edition at GitHub
improvements:

- Red TX / RX LED

- New experimental jumper to connect ground with USB shield

- Recesses for Tic Tac box
A small improvement in the firmware: With a future version of hardsid.dll it will be possible to read from the sidblaster USB. However, with an additional (asynchronous) method. For example, reading Syncrones in Vice will never be possible.
Zuletzt aktualisiert am Mittwoch, den 07. März 2018 um 21:37 Uhr Geschrieben von: gh0stless Mittwoch, den 07. März 2018 um 21:13 Uhr
SIDBlaster-USB TicTac Edition
... is a new design of the original Sidblaster-USB from 2007.
Infos at GitHub and Archive.org:
SIDBlaster-USB TicTac Edition at GitHub
Original SIDBlaster-USB at Archive.org
Improvements (to the original Sidblaster-USB):
cheap power supply 9V/12V switchable
original C64 audio output circuit (with Audio-In-Jack)
switchable filter capacitors
optional connection for paddles
professional Audio-Jacks
suitable for a empty Tic Tac® box.
cuddly blue Power-LED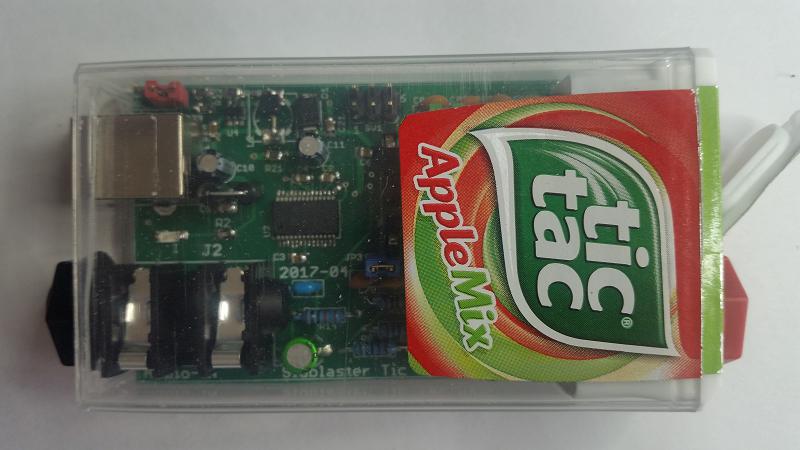 Presentation at "Lange Nacht der Computerspiele 2017" 29.4.2017 in Leipzig/Germany
This is a quick information, eagle-files, partlist and hints for building following soon or can found at GitHub.
The project is open source and free (GNU GENERAL PUBLIC LICENSE)
Source codes are available on request or on GitHub.
If you wanna support me, request on a pcb or a building set at me.
Zuletzt aktualisiert am Freitag, den 23. Februar 2018 um 12:50 Uhr Geschrieben von: Administrator Sonntag, den 30. April 2017 um 05:51 Uhr
USBee AX BNC Adapter
Ich habe für mein USBee AX einen kleinen BNC-Adapter gemacht, da so ein Adapter nicht zu bekommen war.
I have made for my USBee AX a small BNC adapter, since such an adapter was not to get.
Ich habe noch PCB's übrig, wenn Sie Interesse an einer Platine haben, senden sie mir eine eMAil.
I still have PCB's left, if you are interest on a board, send me an eMAil.
Zuletzt aktualisiert am Freitag, den 23. Februar 2018 um 12:34 Uhr Geschrieben von: Administrator Sonntag, den 23. April 2017 um 12:43 Uhr