My Projects
| | | | |
| --- | --- | --- | --- |
| SIDBlaster USB TicTac-Edition | | | |
Written by Administrator
Sunday, 30 April 2017 05:51
... is a new design of the original Sidblaster from 2007.
infos at git hub and archive.org:
Original SIDBlaster at Archive.org
Improvements (to the original Sidblaster):
cheap power supply 9V/12V switchable
original C64 audio output circuit (with Audio-In-Jack)
switchable filter capacitors
optional connection for paddles
professional Audio-Jacks
suitable for a TicTac box.
cuddly blue Power-LED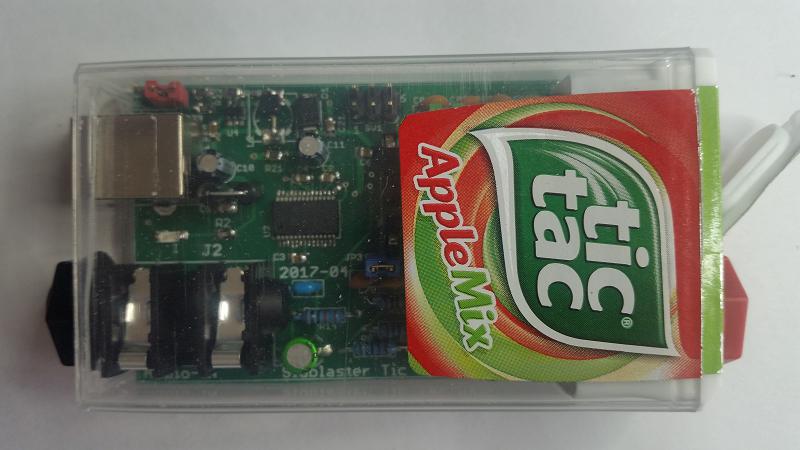 Presentation at "Lange Nacht der Computerspiele 2017" 29.4.2017 in Leipzig/Germany
This is a quick information, eagle-files, partlist and hints for building following soon or can found at GitHub.
If you wanna support me, order a pcb or a building set at me.
write me an eMail.
Last Updated on Tuesday, 09 May 2017 06:23
Written by Administrator

Sunday, 23 April 2017 12:43

Ich habe für mein USBee AX einen kleinen BNC-Adapter gemacht, da so ein Adapter nicht zu bekommen war.

I have made for my USBee AX a small BNC adapter, since such an adapter was not to get.




 

Ich habe noch PCB's übrig, wenn Sie Interesse an einer Platine haben, senden sie mir eine eMAil.

I still have PCB's left, if you are interest on a board, send me an eMAil.




Last Updated on Friday, 12 May 2017 04:38

| | | | |
| --- | --- | --- | --- |
| irsend - Controling all Infrared-Devices from Max or Live | | | |

Written by Administrator

Tuesday, 25 October 2016 00:00

irsend 1.0 released!

irsend is a Max-Extension to send IR-Codes from Max or Max4Live.

You need the WinLIRC-Package and a IR-(Transmitter)-Hardware.

I recommend the IR-Toy from "Dangerous Prototypes", but I think every Transmitter, that is supported by WinLIRC, will do it too.

WinLIRC has to run in background, so that irsend can use it.

The irsend-extension was not a lot of  work, i just copy&paste the code of Transmit.exe in
a C-Max-extension.

IR-Bulb-Remote.amxd ist a Max4Live Example-Device of an Max4Live-Instrument that play
Colors of a LED-Bulb instead of Sound. The Name of your Remote-.cfg and the Code-Names have to
be adapted.

Attention!

since Version 0.9.1 it works fine with 32Bit versions of max and live.


Download now:

Last Updated on Tuesday, 25 October 2016 08:07